My book Digital Design Essentials at Amazon
Reviewed by CHOICE
"This reference work illustrates 100 usability design tips for websites and other applications across devices, not only for aesthetics but also for functionality and ease of use. Lal, a digital product designer, addresses advanced website functions, including the creation of a shopping cart, reviews and ratings, mobile commerce, touch screen interfaces, infographics, APIs, and other current technologies. Each topic features a short instructional page with bullet-point recommendations and tips on what to include. A facing page shows real-world examples and/or case studies. Some of the text instructions refer readers to other entries with related design concepts. The content, organized into sections titled "Desktop," "Web," "Mobile," and "Miscellaneous," is well indexed. Rather than being a technical manual on how to create websites, widgets, or other applications, this volume presents best practices from an ease-of-use perspective. The examples undoubtedly will become outdated soon, but they represent some of the best illustrations of contemporary usability design. The rapid evolution of technology means that few books are available to compare with this one. It will be useful to those interested and/or active in web development or mobile app development.
Summing Up: Recommended. Lower- and upper-level undergraduates, general readers, professionals/practitioners.
–A. R. Hutchinson, Will Smithsonian Institution Libraries
Copyright 2013 American Library The Association
Digital Design Essentials: 100 ways to design better desktop, web, and mobile interfaces?
An ultimate guide to human computer interaction.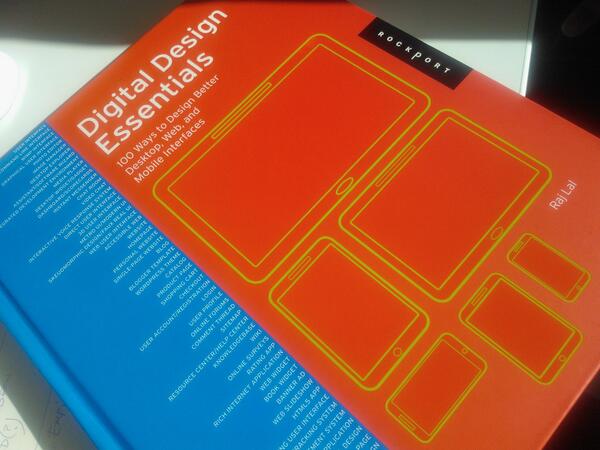 Check out the digital design essentials book at amazon.
Digital Design Essential
Whether dashboard software or a single-page website, a location-aware mobile app or a 10-foot TV interface, digital design is the tip of the iceberg; the actual design is not how it looks but how it works. Dive deep into the workings of one hundred popular desktop, Web, mobile, and TV user interfaces.
Digital Design Essential is a comprehensive, cross-disciplinary encyclopedia of user interface design. Richly illustrated and easy to navigate, it includes architectural views of the application, best practices and design guidelines, tips for creating a great user experience, along with live examples. Every major user interface concept is defined and illustrated for readers, including command line, "WIMP," metro UI, skeuomorphic design, accessible web interface, e-commerce, zooming user interface, infographic design, adaptive interface, mobile lifestyle apps, voice interface, and intelligent user interface.
Learn best practices, design guidelines and pointers for creating a compelling user experience.
Digital Design Essential provides the experienced designer with an understanding of application design and user interfaces. Raj Lal points out the different components affecting the user experience and design principles applicable in an array of application interfaces, enabling the reader to understand the inner working of the application, plan key features, apply design guidelines, and choose the best practices instead of reinventing the wheel.
Digital Design Essential:
Provides a comprehensive guide to user interface design
Explains the know-how necessary to understand the application interface
Points out components affecting the user's experience of the application
Provides user interface design guidelines and best practices for design
Illustrates concepts with a case study for each essential, using real-life examples
Digital Design Essential is an invaluable resource for graphic artists, UI designers, UX gurus, Web designers, RIA, mobile, and device developers.
Here is the Table of Content, a List of User Interface Design guidelines covered in the book
Desktop
User Interface (Human Computer Interface)
Command Line Interface
WIMP Interface
Graphical User Interface (GUI)
Photo Editor
Image Manager
Desktop Explorer
Assistant/Software Wizard
Integrated Development Environment (IDE)
Media Player
Desktop Widget/Gadget
Dashboard/Scorecards
Instant Messenger (IM)
Chat Room
Video Chat
Interactive Voice Response (IVR) System
Direct User Interface
3D User Interface
Metro UI/Modern UI
Skeuomorphic Design/Faux Real UI
Web
Web User Interface (WUI)
Accessible Web
Website
Homepage
Personal Website
Single-Page Website
Blog
Blogger Template
WordPress Theme
Catalog
Product Page
Shopping Cart
Checkout
User Account/Registration
Login
User Profile
Online Forums
Comment Thread
Sitemap
Resource Center/Help Center
Knowledgebase (KB)
Wiki
Online Surveys
Rating App
Rich Internet Application (RIA)
Web Widget
Book Widget
Banner Ad
Web Slideshow
HTML5 App
Zooming User Interface (ZUI)
Task Tracking System
Content Management System (CMS)
Ajax Web Application
Social Design
Search Engine Optimized (SEO) Web Page
Web 2.0 User Interface Design
Service-Oriented Architecture (SOA) Design
Infographics Design
Adaptive User Interface
Mobile
Mobile Phone App
Mobile Web App
Hybrid App
Mobile Website
Information App
Mobile Utility App
Lifestyle App
Address Book
Camera App
Photo App
Mobile Game App
Location Aware App
Branded App
Consumer Service App
Augmented Reality App
Bluetooth App
Near Field Communication (NFC) App
Mobile Ads
Mobile Commerce
Mobile Search
Mobile Home Screen
Touch User Interface
Multi-Touch User Interface
Accessible Touch User Interface
Gesture-Based User Interface
Pen-Based Interface
Mobile Clock App
World Clock App
Mashup App
Voice User Interface
Miscellaneous
10-Foot User Interface
Games UI
Welcome Email
Email Marketing Campaign
Email Newsletter
E-zine
Natural User Interface
Natural Language Interface
Intelligent User Interface
Organic User Interface